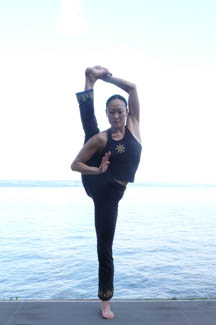 Hwalan is a scholar warrior.  She is an actor, multi-media space artist, dancer, martial artist, poet,  teacher and healer.  The dialogue between opposing forces, traditional and contemporary, East and West, hard and soft, earthly and heavenly, ultimately leading to greater harmony on all levels, is at the heart of her work.  The sacred is achieved through a transformation of, rather than in contradiction to, the deeply human.
Hwalan was born in Seoul, Korea, found on a road at the age of five months and adopted by a secular second generation Russian Jewish intellectual hippie couple living in upstate New York; defining her cultural artistic identity early in life.
Needing the mix of a great urban capital, at eighteen Hwalan moved to New York City and attended Columbia University.  She majored in Visual Art, graduating Magna Cum Laude.
Hwalan felt the need to return to her birth country, compelled to study traditional Korean performing arts: drumming, dance, opera, yoga and martial arts.
During this time Hwalan also engaged in theater: writing, directing and performing traditional Korean music combined with contemporary dance and electric guitar.  Soon after, Hwalan's performance talent was spotted by the producer of a show at Chundong Theater.   She was cast as lead in a vast drumming extravaganza.
The calling from within to finally cross over from Korean city performer to country SunMuDo disciple had come.   When the sky fell on her head, her body was a vehicle that could transform human to sacred.
Returning to New York, Hwalan immediately became a member of the USA Shaolin Temple Demo Team.  Hwalan currently trains in Wu Shu.
Perfecting her yoga practice as well, Hwalan is today one of New York City's top yoga teachers.  She combines yoga and martial arts into a new spiritual/physical experience for her students.
Recent work includes Co-Star on the season premiere of NBC's The Blacklist.  Upcoming performance art work as Lead (orator) for the Guggenheim's performance based exhibition by Wang Jianwei.  On going theater work includes the Lead role in Veteran's Project: Leaving Theater.  Hwalan plays Sgt. Chang, a suicidal combat veteran with PTSD struggling to re-integrate into civilian society.  Directed by Fay Simpson (coached Lupita Nyong'o in her Academy Award winning role, Yale, NYU, creator of Lucid Body).  Hwalan co-created the arc, character, choreography and script through interviews with veterans, some of whom are part of the cast.  The second half of this piece involves improvisation with audience members, largely comprised of combat veterans from Korea, Vietnam, Iraq and Afghanistan.  As well as public policy makers, family members of the military and civilians.
As an immersive installation artist, Hwalan's work navigates loci where science and spirituality converge, providing sensory cues that serve as bridges towards a more heightened, or opened, state; where the experiencer can settle or tap into anything.  Or nothing.  Hwalan's focus is upon the experiencer as primary, active participant within the immersive environments.  The focus is not about the work.  It's about the experiencer.  The sensate experience of Hwalan's art incites a shift in perception, embodiment and presence.  Hwalan recently created, directed and performed in Electra Project, a site specific video installation for the Armory Show.  The work was based on Mourning Becomes Electra, by Eugene O'Neill and installed in the library of the Andrew Freedman Home, a time capsule of the roaring twenties.